Condition Blue: the acoustics of aquatics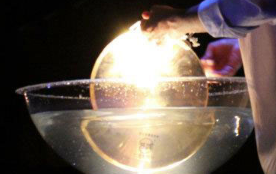 June 1, 2019
CORDIS is excited to announce it's involvement in a multi-phase recording and touring project exploring the creative sonic and visual possibilities water, fire, and earth. The project was conceived by CORDIS' primary composer and cimbalist, Richard Grimes, "to deliver audiences an array of sights and sounds they've never experienced before." CORDIS, in partnership with the National Geographic Society, will begin the first phase of the project, titled Condition Blue, with a focus on the element of water.
The ensemble is currently in the sound creation process of Condition Blue – developing a program which artfully weaves the group's newly developed water-instruments and timbres into the annals of both classic and new CORDIS repertoire. Once the program is crystallized this fall, the ensemble will transition into the production phase with their tech team. In the Fall of 2020, audiences will be able experience the breathtaking visuals of water music coming to life before their eyes!
NCT REVIEW: LE CIRQUE SPIRIT IS CHANGING THE WAY AMERICA EXPERIENCES CONTEMPORARY CIRQUE – ONE SPECTACLE AT A TIME
By Pascal Brodeur
June 1, 2019
Angela Buccini, renown American circus artist and choreographer, sits in her Brooklyn, NY office looking contemplatively at several images captured on a recent southeastern US tour with her widely successful project, le Cirque Esprit. A native of New York, Angela (along with Richard Grimes) has been the founder, creator, director, and choreographer of le Cirque Esprit since it's inception in 2012. She pulls her eyes away from the colorful image and looks up: "There is so much we want to do in le Cirque Esprit, and so seemingly little time to do it all." She sighs and shifts her gaze back to the photograph.
Le Cirque Esprit began as an extension of CORDIS, the renowned American contemporary ensemble led by Grimes. In an effort to provide more motion in the group's live show, Grimes reached out to Buccini for a single-artist cirque collaboration. Quickly, the idea took off and Buccini began growing the cast and elaborating on what was possible with CORDIS' music.
Grimes and Buccini agreed early in their work, to create a show that would facilitate the rapid growth and demand they now enjoy, but would also maintain the artistry and accessibility that got them started. This thoughtful commitment has allowed le Cirque Esprit to perform in any size venue  – and at various price points to accommodate accordingly.
The le Cirque Esprit team has also developed the one of the performing arts industry's most engaging and comprehensive educational components to accompany their performances – and all at no extra charge to promoters or presenters. The crowning achievement is that this is all somehow delivered with artistry that easily rivals – and (dare I say) exceeds that of many contemporary cirque companies who have been on the market much longer.
Le Cirque Esprit To Premiere New Show at Cary Arts Center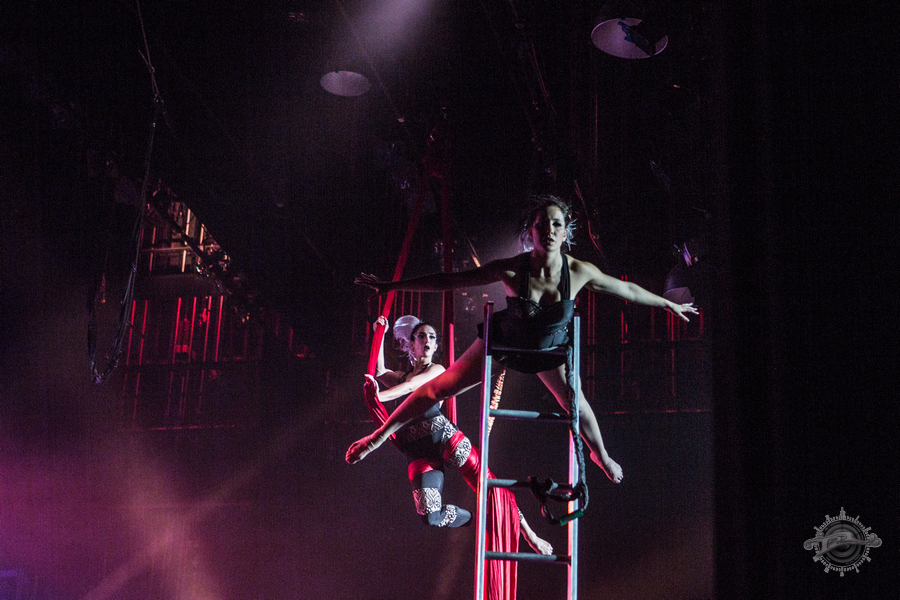 April 12, 2019
Le Cirque Esprit is set to premiere it's latest creation, Spirit of the Machine, at the Cary Arts Center in Cary, North Carolina on Friday, March 2. The new show is based on the Greek mythological tale of Talos: "the first machine." The show was inspired by cordis' epic multi-movement suite, The Only, which features the group performing with several mechanical movements including a 1902 Victor Talking Machine, a large custom-made music box, a pocket watch, and more. The show also features breathtaking acrobatics and aerial acts paired with classic steampunk-era circus artistry such as juggling and wheel acts.
"We're so excited to be opening the new show in a community like Cary, where the arts are alive, and interest in dance and physical spectacle are shared by a healthy cross-section of people, " says Richard Grimes, Artistic Director of cordis. "In addition to the performance, which we are all getting very pumped up for, we're also looking forward to working with young artists in training with dance, acrobatics, and music as part of the outreach we do in conjunction with our performances."
Le Cirque Esprit features cirque by The Boston Circus Guild and live music by contemporary pioneers, cordis. All backline, specialty lighting and projectors, and principle sound and production staff are included in the artist fee. All outreach is also included in that fee. For a list of workshop options, visit Le Cirque Esprit's Presenter Resources page.
__________________________________________________________
Living Room cordis Delivers an Emotional Performance at Opera House Arts
 May 17, 2019
"I have never heard these sounds, these melodies, these harmonies come together the way they did tonight" exclaimed a teary-eyed Margaret Thayer following cordis' much anticipated Living Room performance last Friday night. "They really left nothing on the field" added fellow concert-goer Mark Anscor. "The thing I always take away from our Living Room shows is the feeling of connection. You can see the audience because they are sitting 10 feet in front of you. You can hear the sigh at the back of the room when we finish performing Away Game. I love the big stage, but I also love these exposed moments we don't get in larger venues. It reminds me of the days we first began working and dreaming together as a group," says Andrew Beall, a founding member and percussionist in the group.
The Living Room performances were the culmination of several requests for cordis to return to the acoustic roots from which they first cut their teeth over a decade ago. In addition to the acoustic qualities of the show, the technical logistics and the show's price point are also designed to be very manageable for the small to medium sized venue.
Landpseed Artist Management: 617-314-9099